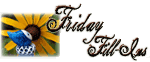 1. Up and away.

2. Joyful moment going around.

3. Coats and scarves, mittens and boots: shoes and socks.

4. I want my back to get a nice back rub.

5. I'm thinking about weekend dinner at Shogun.

6. The new makeover will be name Sherry and its done.

7. And as for the weekend, tonight I'm looking forward to get idea where to have dinner, tomorrow my plans include the car for first service and Sunday, I want to rest at home!